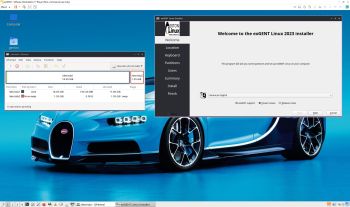 NEWS 230109 about exGENT (Gentoo) 64 bit
I've made a new version of exGENT with only a few necessary packages pre-installed. It uses LXQt 1.2 (latest version) as Desktop Environment and kernel 5.15.80-gentoo-x86_64 (Gentoo's original kernel). The ISO file is of 3450 MB. Despite this exGENT version 230109 runs surprisingly fast from DVD or a USB stick. Even in VirtualBox and VMware. Faster than most other Linux live systems I would say. I call my new version exGENT 2023 LXQt Live DVD/USB. It replaces version 210122. All installed packages in exGENT have been updated to the latest available version by 230109 using Gentoo's repos. Study the full package list.
NOTE: As you can see it is almost two years since the previous version of exGENT was released. That's because everything with Gentoo is extremely time consuming. Installing Gentoo the "Gentoo way" can take several days to perform.
Quick installation to Hard Drive
exGENT Linux can be installed to hard drive in 3 – 20 min. (Depending on computer type). This means that all of you who might hesitate to perform a normal Gentoo installation – which can take up to a couple of days – now have the chance to get this great Linux system (Gentoo) installed on your computers very easy. Read my instruction about how the installation works.

Who is exGENT/Gentoo for?
Experienced Linux users or those who really want to learn Linux. (Perhaps also for people who are bored with mainstream distributions like Ubuntu).
Screenshots
1. exGENT Build 230109 – gentoo's Desktop
2. exGENT Build 230109 – root's Desktop
3. Running Calamares in VMware
4. exGENT running in VirtualBox in full screen
5. exGENT running showing a Samba connection
6. Showing a WiFi connection
7. Calamares Installer is running

Read about my Android-x86 Systems – 11, 10, Pie, Oreo, Nougat, Marshmallow, Lollipop and KitKat at
andex.exton.net – latest is AndEX 11 (with GAPPS), AndEX 10 (with GAPPS) and AndEX Pie 9.0 (also with GAPPS)!
and
about my Android 12, 11, 10, Pie, Oreo, Nougat, Marshmallow and Lollipop versions for Raspberry Pi 4 and 3/2 at
raspex.exton.se – latest is RaspAnd 12 (without GAPPS), RaspAnd 11 (with GAPPS) and RaspAnd Oreo 8.1 (also with GAPPS)!