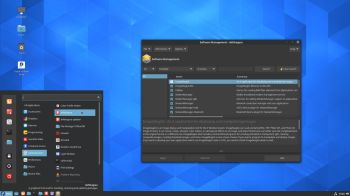 About Exton|Defender SRS (Super Rescue System) Build 200623
Exton|Defender SRS is a Linux system available as a Live USB/DVD based on Rawhide (upcoming Fedora 33), 64bit – version 200623 – for administrating or repairing your system and data after a crash. Exton|Defender aims to provide an easy way to carry out admin tasks on your computer, such as creating and editing the hard disk partitions. It comes with a lot of Linux software such as system tools and basic tools (editors, Midnight Commander, Network tools). Exton|Defender can, however, also be used as a normal Linux Desktop System. It requires no hard drive installation, but can be installed to hard drive if you want. Desktop environment: Cinnamon 4.6.4. Kernel: 5.8-rc1.
What's new in kernel 5.8?

System Tools included
NTFS-3g, GParted, PartImage, Shred, Sfdisk (util-linux-ng), Rsync, Ddrescue, FSArchiver, TestDisk and Midnight Commander. Other programs (among many others): NetworkManager, Firefox, Thunderbird, Samba, Emacs, Safecopy, kernel headers and many compilation tools. See a complete LIST of all installed packages 200623. (Exton|Defender version 200623).

Installation to a USB stick in Fedora or Ubuntu – with persistence!
Use the following command as root in Fedora:
time livecd-iso-to-disk –overlay-size-mb 2048 $EFI –format –reset-mbr exton-defender-fc33-64bit-cinnamon-2260mb-200623.iso /dev/sdX – screenshot when the command is running.
NOTE 1: Change X to b, d, e or… Check it carefully to avoid data losses. You must use the whole stick (for example /dev/sdb) not a partition (for example /dev/sdb1).
NOTE 2: After a few changes you can also use the above command also in Ubuntu. Read more about it…
NOTE 3: The above command is the only one that actually works. And you can't use Fedora Media Writer (or any other program with a GUI (if you want persistence).
NOTE 4: If you don't have an installed Fedora system on your computer you can run Exton|Defender from a DVD and install to a USB stick using the command above. Or run Exton|Defender from one USB stick and install on another USB stick.
SCREENSHOTS
Screenshot 1 of Exton|Defender´s Cinnamon 4.6.4 Desktop
Screenshot 2 – installation of Google Chrome
Screenshot 3 – Netflix is running

Read about my Android-x86 Systems – 10, Pie, Oreo, Nougat, Marshmallow, Lollipop and KitKat at
andex.exton.net – latest is AndEX 10 (with GAPPS) and AndEX Pie 9.0 (also with GAPPS)!
and
about my Pie, Oreo, Nougat, Marshmallow and Lollipop versions for Raspberry Pi 3/2 at
raspex.exton.se – latest is RaspAnd Pie 9.0 (without GAPPS) and RaspAnd Oreo 8.1 (with GAPPS)!