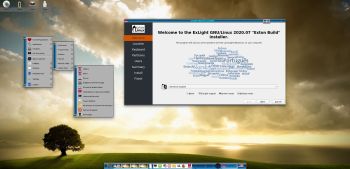 NEWS 200703 ABOUT ExLight
I've made a new version of ExLight with the Enlightenment 0.23.1 Desktop environment, Refracta Snapshot (create your own Debian Bullseye System), Nvidia Graphics Driver 440.100 and Calamares 3.2.26-1 Installer Framework. The very nice Enlightenment  theme NightBlue is used. It will be used also after a hard drive installation.

New sources 200703
This new version of ExLight is based on Debian testing 11 Bullseye. Build 200703 is a total rebuild of ExLight. The ISO file size is of only 1270 MB, which means that ExLight now can run even faster from RAM. I.e. load to RAM – screenshot.
KERNEL
ExLight Build 200703 uses kernel 5.7.6-exton, corresponding Kernel.org's kernel 5.7.6.
Installed packages
Study all installed packages in ExLight Build 200703.

THE REAL McCoy
ExLight is a pure Debian system. I.e. no traces of Ubuntu, Kubuntu etc. New releases of Ubuntu are always based on Debian. So is ExLight.
SCREENSHOTS
1. The Enlightenment 0.23.1 Desktop for root
2. The Enlightenment 0.23.1 Desktop for the ordinary user user running Calamares
3. Connection from ExLight to a Windows computer using Samba
4. Using ConnMan for WiFi connections
5. Using NetworkManager for WiFi connections
6. ExLight Nvidia Settings
7. ExLight running Refracta Snapshot in three steps