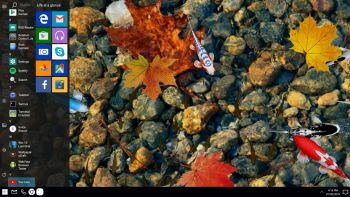 NEWS 180202 about AndEX Oreo 8.1
My first build of AndEX Oreo 8.1 is from 180103. My new build of Android x86_64 – andex_x86_64-oreo-8.1-gapps-windows-launchers-1060mb-180202.iso can be installed (manually) to hard drive or on a USB stick. You can also run the system live. I.e. from a DVD or a USB stick. On some computers you'll have to start up AndEX 8.1 in compatibility mode (VESA) though. NOTE: You can run AndEX Oreo Build 180202 on newer laptops and Desktop computers. The sound and video performance is generally very very good.
MOST IMPORTANT CHANGES IN BUILD 180202
Google Play Store now works as intended. As an alternative you can use Aptoide App Manager. Three nice special window launchers are pre-installed: Win 10 Launcher, Microsoft Launcher and OO Launcher. (OO Launcher is an enhanced Android™ O Oreo™ style launcher, with many useful enhanced launcher features). I've discovered a new way to manually install AndEX Oreo to hard drive. Very simple! Read more about it at andex.exton.net.
Screenshot – AndEX Build 180202 – the Desktop with Win 10 Launcher for Android 8.1 Oreo – with several extra apps (games) – Koi Video Live Wallpaper, Air Fighters, Popcorn Time, Wild Hunt, Racing In Car 2, Drift Clash and Fishing Club 3D – not pre-installed.
MORE NEWS 180202: AndEX – Oreo 8.1 with kernel 4.9.54-exton-android-x86_64 and GAPPS
My new build of Android-x86_64 Oreo 8.1 have GAPPS pre-installed. I.e. Google Play Services, Google Play Store, Google Play Games, Gmail and YouTube. Also many other apps. For example: Spotify, File Manager, Firefox, Root Explorer and Clash of Clans.
ABOUT AndEX Oreo
My compiled Android-x86_64 system (Oreo 8.1) can run and be installed on almost all newer laptops (and some Desktop computers). For example Acer (Aspire), HP, Samsung, Dell, Toshiba, Lenovo, Thinkpad, Fujitsu, Panasonic and Asus laptops. You can (of course) also run AndEX in VirtualBox and/or VMware. Unfortunately only live though. I can also mention that I could run my new Oreo version without problems on a HP Pavilion 500-317no Desktop Computer. You can only do a manual installation to hard drive. That can, however, even be done to a drive where you already have another Linux system (for example Ubuntu 17.10) installed. Read more at andex.exton.net about how to do a very simple manual installation of AndEX Oreo 8.1.
Screenshots
Screenshot 1 – AndEX Oreo 8.1 Desktop with Win 10 Launcher 1
Screenshot 2 – AndEX Oreo 8.1 Desktop with Win 10 Launcher 2
Screenshot 3 – AndEX Oreo 8.1 Desktop with Microsoft Launcher
Screenshot 4 – AndEX Oreo 8.1 Desktop with OO Launcher
Screenshot 5 – AndEX Oreo 8.1 running in VMware