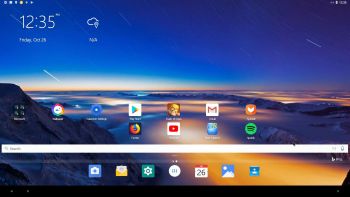 NEWS 181026 about AndEX Oreo 8.1
This build of AndEX Oreo replaces Build 180918. My new build of Android x86_64 – andex_x86_64-oreo-8.1-gapps-windows-launcher-1180mb-181026.iso can be installed to hard drive using the installation program or manually. You can also run the system live. I.e. from a DVD or a USB stick. On some computers you'll have to start up AndEX 8.1 in compatibility mode (VESA) though. NOTE: You can run AndEX Oreo Build 181026 on newer laptops and Desktop computers. The sound and the video performance is generally very very good.
MOST IMPORTANT CHANGES IN BUILD 181026
Google Play Store now works as intended. As an alternative you can use Aptoide App Manager, which also is pre-installed. Two nice special window launchers are pre-installed: Microsoft Launcher and OO Launcher. (OO Launcher is an enhanced Android™ O Oreo™ style launcher, with many useful enhanced launcher features). I've discovered a new way to manually install AndEX Oreo to hard drive. Very simple! Read more below. You can now open up a terminal and become root with the command su root (which you couldn't in previous versions of AndEX Oreo). Build 181026 uses kernel 4.18.14 with more support for various hardware. Most important: The install function works in this new version of AndEX Oreo. You can also install AndEX Oreo to a virtual hard drive while using VirtualBox and/or VMware. You can also run AndEX Oreo very well live in both VMware and VirtualBox. You can now install AndEX Oreo 8.1 in VMware using the install function (which you couldn't in my previous AndEX Oreo builds). When booting from hard drive in VMware you'll have to use the nomodeset boot alternative though.
Screenshot – AndEX Build 181026 – the Desktop with Win 10 Launcher for Android 8.1 Oreo – with several extra apps (games) – Koi Video Live Wallpaper, Air Fighters, Popcorn Time, Wild Hunt, Racing In Car 2, Drift Clash and Fishing Club 3D – not pre-installed. If you like the Win 10 Launcher just install it via Google Play Store.

MORE NEWS 181026: AndEX – Oreo 8.1 with kernel 4.18.14-exton-android-x86_64 and GAPPS
My new build of Android-x86_64 Oreo 8.1 have GAPPS pre-installed. I.e. Google Play Services, Google Play Store, Google Play Games and YouTube. Also many other apps. For example: Spotify, ES File Explorer, Firefox, Root Explorer, Control Screen Orientation and Clash of Clans.
Screenshots
Screenshot 1 – AndEX Oreo 8.1 Desktop with Microsoft Launcher
Screenshot 2 – AndEX Oreo 8.1 Desktop with OOLauncher – all apps
Screenshot 3 – AndEX Oreo 8.1 running live in VirtualBox
Screenshot 4 – Doing a manual installation to hard drive
Screenshot 5 – Becoming root
Screenshot 6 – AndEX Oreo 8.1 running from hard drive in VMware