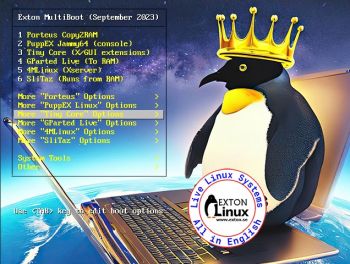 Latest News about EXTON Linux MultiBootCD 6-OS 230929
A new version of EXTON Linux MultibootCD 6-OS is ready. The previous version is from February 15, 2019. Changes: New (latest) versions of Porteus, GParted Live, Puppy Linux (PuppEX Jammy64), 4MLinux, SliTaz and Tiny Core. Note about VirtualBox: All systems can run in VirtualBox.
SCREENSHOTS
1. Porteus v. 5.01 Desktop
2. PuppEX Jammy64 (Puppy Linux) Desktop
3. Tiny Core 14.0 Desktop
4. GParted Live 1.5.0-6 Desktop
5. 4MLinux 43.1 Desktop
6. SliTaz 5.0 Rolling release Desktop
ABOUT Ventoy
There is no REAL need for a multibootcd anymore. You can use Ventoy and just drop/copy any Linux ISO to a USB stick and run it from there. Ventoy is an open source tool to create bootable USB drive for ISO files. With Ventoy, you don't need to format the disk again and again, you just need to copy the iso file to the USB drive and boot it. You can copy many iso files at a time and Ventoy will give you a boot menu to select them – screenshot. READ MORE about Ventoy…
So I should really abandon my multibootcd project…

Read about my Android-x86 Systems – 11, 10, Pie, Oreo, Nougat, Marshmallow, Lollipop and KitKat at
andex.exton.net – latest is AndEX 11 (with GAPPS), AndEX 10 (with GAPPS) and AndEX Pie 9.0 (also with GAPPS)!
and
about my Android 13, 12, 11, 10, Pie, Oreo, Nougat, Marshmallow and Lollipop versions for Raspberry Pi 4 and 3/2 at
raspex.exton.se – latest is RaspAnd 13 and 12 (without GAPPS), RaspAnd 11 (with GAPPS) and RaspAnd Oreo 8.1 (also with GAPPS)!