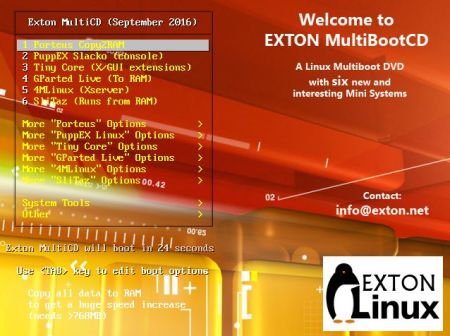 Latest News about EXTON Linux MultiBootCD 6-OS
28.9.2016
A new version of EXTON Linux MultibootCD 6-OS is ready. Changes: New (latest) versions of Porteus, GParted, Puppy Linux (PuppEX Slack64), 4MLinux, SliTaz and Tiny Core. Note about VirtualBox: All systems but Porteus can run in VirtualBox. Why Porteus won't run I don't know.
What's the point of running EXTON Linux MultiBootCD 6-OS?
Anyone who is slightly interested in Linux and want to see how far the development of the most famous mini Linux systems have reached should try it. Easy then to test the current systems on the CD (DVD) live to find out which one suits you (and your computer) best.
Screenshots – see below…
| | | | | | |
| --- | --- | --- | --- | --- | --- |
| Porteus | PuppEX | Tiny Core | GParted Live | 4MLinux | SliTaz |