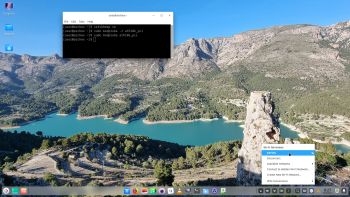 NEWS about ArchEX 230812
A new version of ArchEX (Arch Linux Live) is ready! In this new version, which I call ArchEX 2023, I have added the Deepin 20.9 (latest) Desktop Environment (DE). Deepin DE (made in China!) is devoted to providing a beautiful, easy to use, safe and reliable system for global users. I came to like Deepin DE very much when I installed it in ExTiX 23.4. So I thought why not install Deepin DE also in ArchEX? Furthermore I have added the  LXQt 1.3 (latest) Desktop Environment. You can choose the one you want at LightDM's Login screen.
Known "bugs" or errors in this ArchEX Build
I've kept my "old" ArchEX version 220905 on the server since ArchEX Build 230812 have some "bugs" i.e.:
1) You can't change wallpaper in Deepin. That is a known bug in Arch Linux and all distros based on Arch Linux. There is, however, a "workaround".  Put the picture you want to use as wallpaper in /usr/share/wallpapers/deepin and change the name of the picture to Hummingbird_by_Shu_Le.jpg. Watch this screenshot…
2) When installing ArchEX to hard drive using Calamares Installer you'll have to format the install partition in another Linux system in advance. If you let Calamares format you will get filesystem errors and therefore ArchEX won't boot. Watch this screenshot…
So using Calamares it shall look like this screenshot shows.
NOTE: When installing ArchEX in VirtualBox you don't have to worry about filesystem errors (for some unknown reason).
3) It can be difficult to configure a WiFi connection. To be able to use a WiFi connection you may have to unload and load the correct kernel module.
For example athk10_pci, iwlwifi or wl. Example commands:
$ sudo modprobe -r ath10k_pci
$ sudo modprobe ath10k_pci
Check which kernel module to load with the command: lspci
Also watch this screenshot…
Aside from the above mentioned bugs ArchEX Build 230812 works very well both live and from hard drive.
Study all installed packages in ArchEX 2023 with Deepin and LXQt.

WHO should run Arch Linux?
My answer: The system fits the "advanced" Linux user/enthusiast, who would be willing to run an occasional command from time to time.
BENEFITS of ArchEX/Arch Linux
"Cutting Edge"-software and speed. You will for example always run the latest kernel if you upgrade ArchEX/Arch (for example) every month.
Screenshots
ArchEX Deepin Desktop
ArchEX LXQt Desktop
ArchEX running in VirtualBox with Guest Additions installed
ArchEX running Calamares

Read about my Android-x86 Systems – 11, 10, Pie, Oreo, Nougat, Marshmallow, Lollipop and KitKat at
andex.exton.net – latest is AndEX 11 (with GAPPS), AndEX 10 (with GAPPS) and AndEX Pie 9.0 (also with GAPPS)!
and
about my Android 13, 12, 11, 10, Pie, Oreo, Nougat, Marshmallow and Lollipop versions for Raspberry Pi 4 and 3/2 at
raspex.exton.se – latest is RaspAnd 13 and 12 (without GAPPS), RaspAnd 11 (with GAPPS) and RaspAnd Oreo 8.1 (also with GAPPS)!