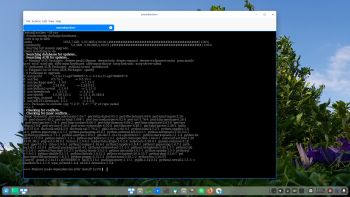 NEWS about ArchEX 200930
A new version of ArchEX is ready! In this new version, which I call ArchEX 2020, I have added the Deepin 20 BETA (latest) Desktop environment. Deepin (made in China!) is devoted to providing a beautiful, easy to use, safe and reliable system for global users. I came to like Deepin very much when I installed it in ExTiX 20.5 . So I thought why not install Deepin also in ArchEX?
REPLACEMENT
This version (200930) of ArchEX replaces version 200914, which couldn't run on UEFI computers. I've also replaced Yaourt with Yay – Yet Another Yogurt – An AUR Helper Written in Go. I came to know that Yaourt is dead. I.e. Yaourt is not being developed anymore. So in the new version of ArchEX I have fixed the UEFI matter, upgraded all included packages, installed a new kernel (5.8.12 – latest stable kernel by 200930) and replaced Yaourt with Yay.
Study all installed packages in ArchEX 2020 Deepin/LXQt.
SCREENSHOTS
ArchEX Deepin Desktop
ArchEX Deepin full Desktop
ArchEX running LXQt – just change from Deepin to LXQt before you log in
ArchEX using Yay