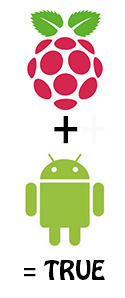 NEWS about RaspAnd 160315
I have uploaded a new version of RaspAnd, which can run also on the new Raspberry Pi 3 computer. It is basically the same system as before. Only the boot parameters are changed.
About RaspAnd 150924
I have finally managed to include Google Play Store in RaspAnd and most important Google Play Services.
NEWS 150924
I have compiled yet another Android 5.1 Lollipop system which can run on Raspberry Pi 2. I call "my" new system RaspAnd Build 3. My first version of RaspAnd is from 150405 and my second from 150527. The following useful apps are pre-installed in Build 3 of 150924: Google Play Store, Aptoide App Manager (as an alternative to Google Play Store), Terminal Emulator, AIDA64, Geekbench, WinZip, FileManager, Rotation Control Lite, WPS Office and Offline Maps. Google Play Store, AIDA64 and Geekbench were not included in Build 2 from 150527.

SCREENSHOTS
Screenshot 1 – Google Play Store running
Screenshot 2 – RaspAnd's Desktop
Screenshot 3 – Google Play Services updating
Screenshot 4 – Google Play Store update with Aptoide