NEWS 171215 ABOUT RaspAnd Nougat 7.1.2 with Google Play Store (and everything else!) working
RaspAnd Nougat 7.1.2 Build 171215 has GAPPS installed and Google Play Store working. Bluetooth works and you can use TeamViewer to control other computers from your Rpi3. RaspAnd can be installed in Windows using Win32 Disk Imager or Etcher. The video performance is generally much better than in previous versions. Your Wifi connection is stable and it will reconnect after every reboot of your Rpi3.
Slideshow – showing RaspAnd's boot procedure…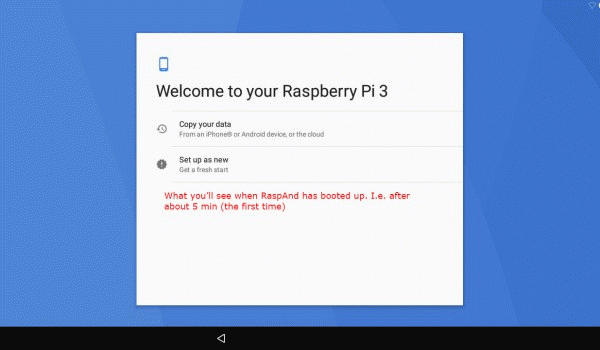 MORE ABOUT RaspAnd
RaspAnd Nougat 7.1.2 Build 171215 is an Android 7.1.2 Nougat system which can run on Raspberry Pi 3. I have included the following apps:
1) GAPPS (Google Play Services with Google Play Store)
2) Kodi 17.6 (latest version which allows users to play and view most videos, music, podcasts, and other digital media files from local and network storage media and the Internet. YouTube is enabled and working very well!)
3) Spotify TV 1.6.3 (working very very well)
4) Google Play Games (needed for Clash of Clans to run)
5) Clash of Clans 9.256.19 – very popular!
6) TeamViewer 1.3.0.7991 – control other computers from your Rpi3!
7) Jelly Browser 7.1.2 – use it to watch YouTube etc.
8) Aptoide TV 3.2.5 (for installing new apps which can't be found on Google Play Store – many many apps can be installed!)
9) ES File Explorer 4.1.6.7.5 working very well
10) Chess 2.3.6
11) AIDA64 1.47
12) Termux – a very special terminal. (Use the APT package manager!)

Bluetooth and TeamViewer
Bluetooth works in RaspAnd Build 171215. As an alternative you can use the TeamViewer app, which is pre-installed. Screenshot when the TeamViewer app is running on my Rpi3 and controlling my PC.
Clash of Clans and other popular games
Clash of Clans 9.256.19 (a very popular epic strategy game) works very very well. Perfect video quality and audio.
Spotify
Spotify works very well in RaspAnd Nougat. Just log in and play your favorite music!
SCREENSHOTS
Slideshow – showing RaspAnd's boot procedure
Screenshot 2 – RaspAnd's Desktop
Screenshot 3 – Google Play Store running
Screenshot 4 – Spotify running
Screenshot 5 – YouTube running in Jelly Browser with perfect video quality
Screenshot 6 – Aptoide TV running
Screenshot 7 – TeamViewer running and controlling my PC
Screenshot 8 – Kodi running
Screenshot 9 – Rpi3 connected to mobile phone by Bluetooth
Screenshot 10 – Developer options
Screenshot 11 – The Desktop when the Raspberry Pi official 7″ touchscreen is used (RaspAnd Build 171220)
Screenshot 12 – Running YouTube in the Jelly Browser when the touchscreen is used (RaspAnd Build 171220)
Screenshot 13 – The Desktop when a Samsung 55″ TV is used as monitor (RaspAnd Build 171220)