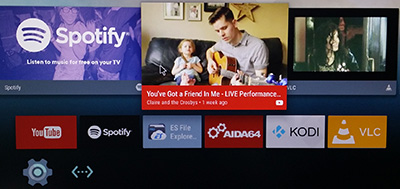 ABOUT
RaspAnd Nougat 7.1.1 Build 170127 is an Android 7.1.1 Nougat system which can run on Raspberry Pi 3 and Pi 2. I have included the following apps:
1) GAPPS (latest by 170125)
2) Kodi 17.0-RC4 (with YouTube enabled and working!)
3) Firefox 51.0
4) Spotify 1.0.0
5) Rotation Control Pro 1.1.9
6) AIDA64 1.44
7) Aptoide App Store 8.0.1.2
8) YouTube 1.3.11 (sound, but no video. If you, however, use SnapTube you can download videos/movies from YouTube and replay them in Windows or Linux with perfect video quality)
9) ES File Explorer Pro 1.0.8
10) Gmail 7.1.1
11) Google Play Services 10.2.91
12) Google App 6.10.37.21
13) Google Play Store 7.4.12.L-all (not working, but since Google Play Services work very well you can install many new GAPPS using Aptoide App Store).
14) SnapTube 4.11.0.8.8655
ABOUT KODI
Kodi (an award-winning free and open source (GPL) software media center for playing videos, music, pictures, games, and more) works very well in RaspAnd. You can enable a lot of Add-ons. Most important is that the YouTube Add-on is enabled by default and that it works very well. I.e. both the sound and the video performance when running YouTube in Kodi is satisfying.

KNOWN ISSUES
1. The screen can flicker sometimes on certain monitors. In the worst cases it can look like this. Fix: Click on the screen or wait a moment.
2. Google Play Store won't run. Nothing to do about it (right now). Aptoide is a good replacement since you can install most Google apps using Aptoide.
3. You can't watch videos/movies using the YouTube app. The sound is very good though. Nothing to do about it (right now). Please note that you can run YouTube in Kodi with good video and sound quality.
4. Not all apps will run in RaspAnd Nougat. You can for example run the popular (?) Clash of Clans, but not Angry Birds. Many many apps will run without problems though.
5. You may have to reconnect to your Wifi Network after every reboot of RaspAnd. Sort of a "bug".
PLEASE NOTE that the installation to a Micro SD Card has to take place in Linux.
SCREENSHOTS
Screenshot 1 – Aptoide App Store running
Screenshot 2 – RaspAnd's Desktop
Screenshot 3 – Kodi running
Screenshot 4 – Kodi running (choosing Add-ons)
Screenshot 5 – ES File Explorer running
Screenshot 6 – Spotify running
Screenshot 7 – AIDA64 running
Screenshot 8 – SnapTube running
Screenshot 9 – SnapTube running and downloading from YouTube
Note: The "screenshots" are taken with my mobile phone camera. The colors are therefore not perfect. I.e. when running RaspAnd on your Raspberry Pi the screen colors are much better!