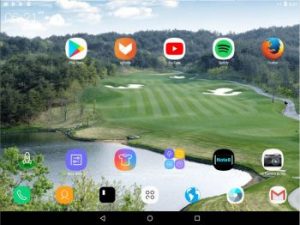 NEWS 170930 about AndEX Nougat 7.1.2
My new build of Android x86_64 – android_x86_64-7.1.2-nougat-gapps-kernel-4.13.3-exton-170930 can be installed to hard drive or on a USB stick. You cannot run the system live. I.e. from a DVD or a USB stick or live in VirtualBox or VMware. On some computers you'll have to start up AndEX 7.1.2 in compatibility mode (VESA) after a hard drive installation. GAPPS and all other apps mentioned below are installed. NOTE1: You can run AndEX Nougat Build 170930 on newer laptops and Desktop computers. The video and sound performance is generally very very good. Note2: When trying to run AndEX Build 170930 live (from a DVD or USB stick) you will get all kinds or errors. When running AndEX from hard drive (also in VirtualBox or VMware) you will get no errors at all.

Screenshot – AndEX Build 170930 – the Desktop with 00 Launcher for Android 0 8.0 Oreo

MORE NEWS 170930: AndEX – Nougat 7.1.2 with kernel 4.13.3-exton-android-x86_64 and GAPPS
My new build of Android-x86_64 Nougat 7.1.2 have GAPPS pre-installed. I.e. Google Play Services, Google Play Store 8.1.29.S-all, Google Play Games, Gmail 7.9.10 and YouTube 12.36.56. Also many other apps. For example: Spotify 8.4.21.495, File Manager 2.2.0.147, Firefox 55.0.2 and Rotation Control Pro 1.1.9.

PREREQUISITE
The system can also be installed manually to hard drive. To be able to do that you must have at least one Linux system installed on your hard drive. You must also use Grub as boot loader. You can also (or alternatively) install AndEX 7.1.2 the normal way while running the system from a DVD or from a USB stick. Use preferable Rufus to create a bootable USB stick. Or burn the ISO file (android_x86_64-7.1.2-nougat-gapps-kernel-4.13.3-exton-958mb-170930.iso) to a DVD and run the system (install) from it.

ABOUT Andex Nougat 7.1.2
My compiled Android-x86_64 system (Nougat 7.1.2) can be installed on almost all newer laptops (and some Desktop computers). For example Acer (Aspire), HP, Samsung, Dell, Toshiba, Lenovo, Thinkpad, Fujitsu, Panasonic and Asus laptops. I can also mention that I could run my new Nougat version without problems on a HP Pavilion 500-317no Desktop Computer. The Android-AndEX 7.1.2 system is distributed in the form of a Zip file and a ISO file. You can do a manual installation to hard drive. That can even be done to a drive where you already have another Linux system (for example Ubuntu 17.04) installed. That's sort of a Frugal Installation (normally used by Puppy Linux).

Android Nougat 7.1.2 was released 170403.

Screenshots
Screenshot 1 – Nougat boot animation (which you must see during the boot. If not, the installation was unsuccessful)
Screenshot 2 – AndEX Nougat 7.1.2 Desktop with 00 Launcher for Android 0 8.0 Oreo
Screenshot 3 – AndEX Nougat 7.1.2 – Google Play Store running
Screenshot 4 – AndEX Nougat 7.1.2 – Google Play Store running and updating 00 Launcher
Screenshot 5 – AndEX Nougat 7.1.2 – running in VMware
Screenshot 6 – AndEX Nougat 7.1.2 – running in VirtualBox
Screenshot 7 – AndEX Nougat 7.1.2 – Desktop with Note 8 Launcher