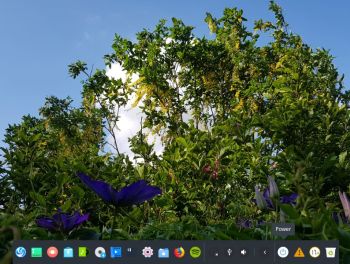 NEWS about ArchEX 190612
A new version of ArchEX is ready! In this new version, which I call ArchEX 2019, I have added the Deepin 15.10.1 (latest) Desktop environment. Deepin (made in China!) is devoted to providing a beautiful, easy to use, safe and reliable system for global users. I came to like Deepin very much when I installed it in ExTiX 19.4. So I thought why not install Deepin also in ArchEX?
Study all installed packages in ArchEX 2019 Deepin/LXQt.

WHAT IS ArchEX?
ArchEX 64 bit is a new (190612) Linux live DVD based on Arch Linux. Arch motto is KISS (Keep It Simple Stupid). ArchEX uses kernel 5.1.8-arch1-ARCH, Deepin 15.10.1 and LXQt 0.14.1 Desktop environments. Deepin 15.10.1 Desktop (made in China!) is devoted to providing a beautiful, easy to use, safe and reliable system for global users. About LXQt 0.14.1: LXQt is a lightweight Qt desktop environment. It will not get in your way. It will not hang or slow down your system. It is focused on being a classic desktop with a modern look and feel.
INSTALLED SOFTWARE
Among many other programs, Firefox 67.0.1-1 (for Netflix), Gimp, Spotify, GCC, Wicd and GParted – study this package LIST.
YouTube video about ArchEX
Ike Santos (https://www.facebook.com/groups/Ike.Santos) has made a YouTube video about ArchEX. You will get a detailed description about how to install ArchEX in VirtualBox using Calamares Installer.

Rolling distribution
Arch Linux/ArchEX are rolling distributions, which implies that once you have installed the system on the hard drive there is no need for re-installations (which otherwise is common in the Linux world).
WHO should run Arch Linux?
My answer: The system fits the "advanced" Linux user/enthusiast, who would be willing to run an occasional command from time to time.
BENEFITS of ArchEX/Arch Linux
"Cutting Edge"-software and speed. You will for example always run the latest kernel if you upgrade ArchEX/Arch (for example) every month.
Screenshots
ArchEX Deepin Desktop
ArchEX Deepin full Desktop
ArchEX running Calamares – Welcome screen
ArchEX starting up live
ArchEX starting up from hard drive (VirtualBox)
ArchEX installing Google Chrome with Yaourt
ArchEX Installer (Calamares) running – all done
When Cinnamon is installed (pacman -S cinnamon)
When Xfce4 is installed (pacman -S xfce4)
When KDE (Plasma) is installed (pacman -S plasma-meta and pacman -S kde-applications-meta)
When Enlightenment is installed (pacman -S enlightenment)
ALL extra desktops can be installed in about 10 min!