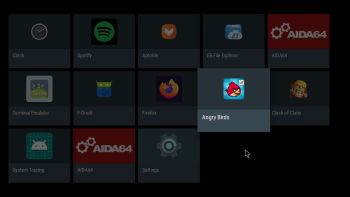 RaspAnd 10 for Raspberry Pi 4, Pi 3 B and Pi 3 B+ :: Build 200809 :: with Firefox, Spotify, Aptoide App Manager "Independent Android App Store") and F-Droid – "Free and Open Source Android App Repository"
About Raspberry Pi 4
This build (RaspAnd 10 200809) works very well on the new Raspberry Pi 4. I used the latest model with 8GB RAM, but you can of course use the other models too.

ABOUT RaspAnd 10 – Build 200809
RaspAnd 10 runs very well on a Raspberry Pi 4, 3 Model B and 3 Model B+. I.e. the system is pretty responsive if you use a micro SD card of good quality. RaspAnd 10 has the following apps pre-installed: Firefox, Spotify, Aptoide App Manager, F-Droid, Aida64 and ES File Explorer. Unfortunately not Google Play Store, but Aptoide and F-Droid work as good replacements for it.
About different launchers
If you install Lucid Launcher via Aptoide App Manager you can change wallpaper to whatever you want. Watch a screenshot when Lucid Launcher is used…

Compatibility :: August 2020
Unfortunately not all systems made for Raspberry Pi 3 and 2 will run on the new Raspberry Pi 4 computer. They need to be upgraded with a new kernel. I therefore have to upgrade the systems I distribute. I.e. RaspEX, RaspEX with OpenCPN, exGENT, RaspEX BunsenLabs, RaspEX Kodi, RaspAnd Marshmallow, RaspAnd Nougat 7.1.2, RaspAnd Oreo 8.1, RaspAnd Pie, EXTON OpSuS Rpi, FedEX Rpi3 and RaspArch. I have until now (200809) only upgraded RaspAnd 10, RaspEX, RaspEX Kodi, RaspArch, exGENT and RaspEX with OpenCPN. Read about the new Raspberry Pi 4.
SCREENSHOTS
1. The Desktop with Clash of Clans and Angry Birds installed
2. Using Aptoide App Manager
3. Running Spotify
4. WiFi Settings – (WiFi works very well)
5. Aida64 running showing the system info
6. YouTube running in Firefox
7. Clash of Clans running (installed via Aptoide)
8. Angry Birds running (installed via Aptoide)
9. ES File Explorer running showing that the card of 64GB is fully used